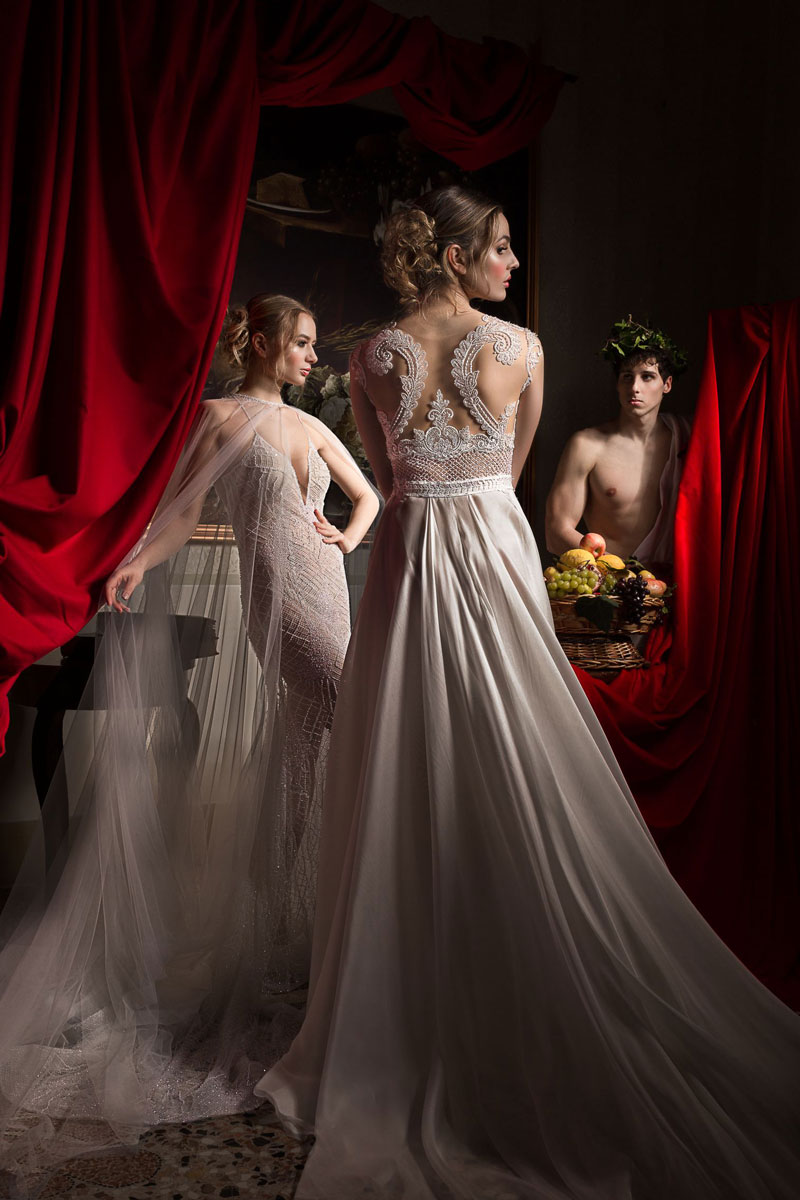 50 Years of successes and satisfactions for the designer Emiliano Bengasi, an anniversary to be sealed with a series of special events and many initiatives are put in place to celebrate this important milestone.
A new photo shooting to present the 2019 collection dedicated to Caravaggio, the participation in the Milan Bridal Week from 6 to 9 April, the Fashion Show to present the new collection at the Milan fashion week, scheduled for April 7 at 5:30 pm , a short film entitled "The Tailor of Emotions".
The countdown has begun, on the site, just renewed, www.emilianobengasi.it, stands the countdown to the live streaming of the Milan Fashion Show dedicated to Caravaggio, all the brides can connect to the Facebook page to follow live the show.
Numerous VIP request his creations from actress Diana Del Bufalo, comedian Panariello up to the recent conquest of Claudia Gerini who just last night (Friday 30 March) was a guest in the early evening in the program of Ambra Angiolini "Cyrano" and he wore a garment made by the designer Emiliano Bengasi.
After Milan Fashion Week will be the presentation of the film "The Tailor - the Tailor of Emotions" a short film that will be screened premiered at the Multiplex Superotto cinema in Campiglione di Fermo on 20 February at 21.30. At the premiere of the film will also participate the actors Rocco Fasano and Alice Bellagamba known to the general public for having participated in the broadcast Amici di Maria de Filippi and several TV dramas.
The final event for this 50th Anniversary will be the parade that will be held in 18 November at Villa Bonaparte, an unmissable event that over the years has become a point of reference for future spouses, who will not fail to excite, surprise and excite with a spectacular show where protagonists will be the dream dresses of Emiliano Bengasi.
The new 2019 collection recalls the blood and mysterious atmosphere of Caravaggio's paintings, a perfect combination in which the art of sartorial wisdom blends with the art of painting to create atmospheres with a sure emotional impact. Emiliano Bengasi is since 1968 a cutting-edge stylistic laboratory whose production of clothes is entirely Italian and internal to the company, the brand is present in the most prestigious stores in the world. From his creativity come to life sartorial works that are a eulogy to elegance and that have made it a style icon.